The Alliance Urges Federal, State and City Leaders to Act Swiftly Amid Resurgence of COVID-19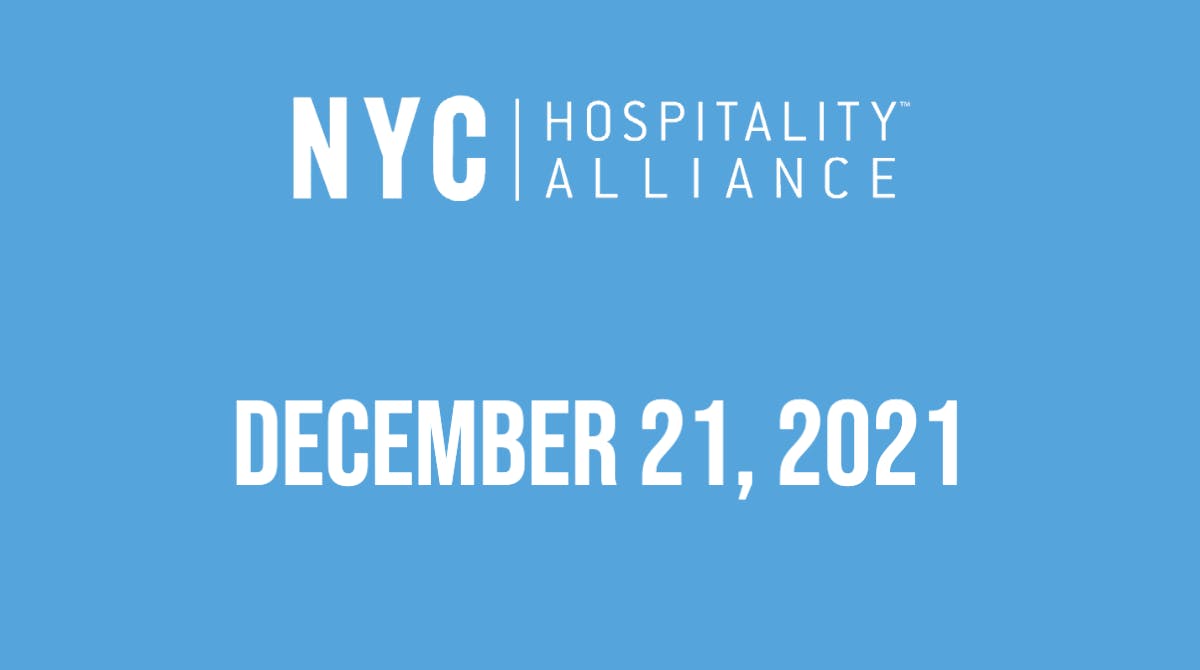 With rising COVID-19 infections impacting everything in New York from the Rockettes, to the cancellation of reservations and holiday parties, to when employees will return to the office, the NYC Hospitality Alliance released ten critical policy proposals that New York City, New York State and the Federal government should enact immediately to ease the economic pain that's been created for the more than 20,000 restaurants, bars, nightclubs, and event spaces across the five boroughs.
1. Offset the cost of COVID sick days employers must pay. Restaurants have been financially devastated and many face huge amounts of debt. Employees need to be assured that they can stay home if sick without jeopardizing their income and the health of their colleagues and diners, so government needs to support struggling businesses by offsetting the cost of sick pay.
2. Get rapid tests to restaurants. To protect the health and safety of restaurant workers and diners alike, and mitigate operational disruptions to businesses, rapid tests should be provided directly to restaurants, bars, and nightclubs for increased and more effective distribution.
3. Convert sales tax to grants. Sales tax collected should be converted into cash grants for businesses to have immediate money on-hand to cover expenses. If the money was remitted via the Prompt Pay program (or otherwise) it should be reverted to the businesses.
4. Bring back Alcohol to Go. Alcohol to Go was extremely popular with consumers and the revenue it generated for restaurants and bars was a lifeline for months during the pandemic. Small business owners need the certainty of this revenue stream. Delivery and takeout will continue to be an integral part of the restaurant business, so this source of ongoing revenue is critically important to so many restaurants and bars. Alcohol to go must be reinstated.
5. Allow the safe use of propane heaters for outdoor dining. Last year propane heaters made outdoor dining possible during the coldest months of the pandemic. It's critical that restaurants have the opportunity to effectively, efficiently, and safely keep their customers warm with propane heaters while they dine outdoors again this winter, especially as more do as a result of increasing COVID-19 cases. This policy is supported by Mayor-elect Adams and legislation was introduced by Councilmember Powers to again allow propane heaters.
6. Replenish the Restaurant Revitalization Fund. 65% of New York restaurants were shut out of the federal Restaurant Revitalization Fund grant program after funds were exhausted, and countless local restaurants are still in dire situations. More financial relief is desperately needed. While we've worked with New York's elected officials led by Majority Leader Schumer and secured their support, we need the support of more U.S. Senators from states around the nation to make this relief a reality.
7. IRS must send Employee Retention Tax Credit checks to businesses. There's been far too long of a delay already. With uncertainty in the industry growing, Employee Retention Tax Credit checks must be sent to businesses immediately.
8. Pass the Low-Revenue Recipient Paycheck Protection Program Relief Act. This legislation introduced by Congressman Nadler will better align loan forgiveness with the challenges that restaurants continue to experience in the hardest hit neighborhoods. This legislation will protect restaurants from more devastating debt, while saving jobs and local businesses. While we're working with New York's elected officials to secure their support, the passage of this important legislation needs support from members of Congress from around the country.
9. Clearly communicate facts and smartly manage health and risk. Government needs to be thoughtful and straightforward in communicating the available facts about the Omicron variant, continue to reassure businesses that they are not contemplating more shutdowns, balance risk while allowing people to live their lives, and promote best practices to keep friends, colleagues, customers, and loved ones as safe as possible. We need steady hands and leadership, because misinformation and hysteria is damaging.
10. Get more people vaccinated and boosted. Efforts to get people vaccinated and boosted are vital. Hand-in-hand with the private sector and community groups, government needs to ensure that the number of people getting vaccinated and boosted continues to accelerate.
"New York City's restaurant and nightlife industries were absolutely devastated by the COVID-19 pandemic. Across the city, businesses are still struggling, and another economic downturn caused by Omicron compounds the chaos and challenges, and could be the death knell for even more local restaurants and nightlife spots," said Andrew Rigie, executive director of the NYC Hospitality Alliance. "We need government to support and help save these vital businesses and jobs by enacting these policies ASAP."