Main content starts here, tab to start navigating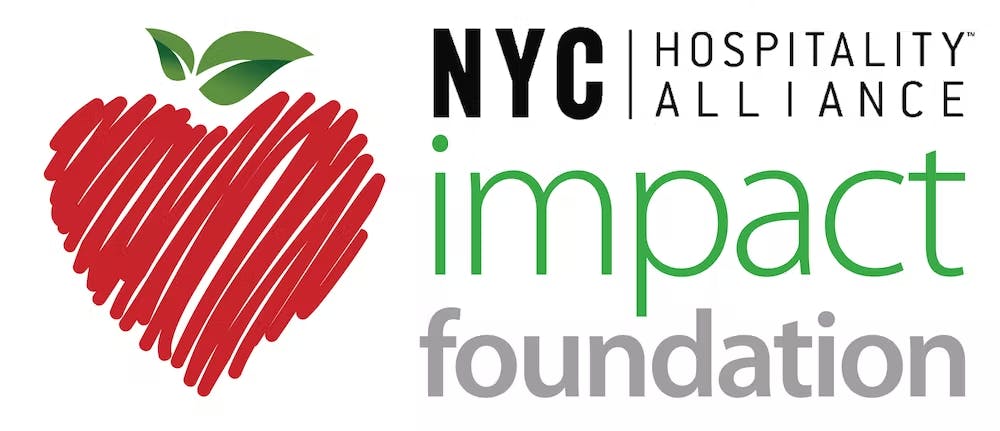 WORKING TO SUPPORT A THRIVING, DIVERSE AND RESILIENT RESTAURANT AND NIGHTLIFE COMMUNITY
The New York City Hospitality Alliance Impact Foundation is a 501(c)(3) nonprofit organization dedicated to supporting a thriving and sustainable independent restaurant and nightlife community across the five boroughs. The Impact Foundation's initiatives complement the NYC Hospitality Alliance by focusing on workforce development, diversity, equity and inclusion, community support, emergency meals, philanthropy, research, and more.
WORKFORCE DEVELOPMENT AND JOB PLACEMENT PROJECT
The Problem:
The industry has been suffering a massive labor shortage and staffing crisis.
According to a 2022 survey by the National Restaurant Association, seven of 10 operators reported not having enough employees to support demand at their restaurants and the majority said they don't anticipate the labor situation to improve in 2022. As of Q1 2023, New York City's restaurants and bars employ 35,000 fewer people compared to pre-pandemic employment levels in 2020.
According to a POS survey, 51% of restaurant operators name staffing as a top challenge to success, while 35% say training staff is a top challenge. Turnover in the restaurant industry is at an all time high, at 75%, and it can cost $2,000 to hire and train a new staff member, and $15,000 to hire and train a new manager.
The Solution:
The Workforce Development and Job Placement Project.
The Impact Foundation will raise funds to make grants to high-quality hospitality industry educators who train, develop, and mentor New Yorkers for their first jobs in the restaurant industry.
Initiatives will include workforce training programs conducted by acclaimed instructors and programs with oversight from the Impact Foundation expert hospitality industry network.
The Impact Foundation will also develop and fund upskilling programs—e.g. train a server to become a manager, train a manager in human resources, budgeting and financial management, and more.
EMERGENCY MEALS COMMUNITY PROJECT
The Problem:
Disaster response is sometimes ad-hoc and underfunded.
Whether 9/11, Superstorm Sandy, COVID-19, floods in Queens, or fires in the Bronx, the city's hospitality industry regularly provides meals, labor, and monetary support to New Yorkers in the wake of disasters. While there are organizations doing very impactful work in these sectors, responses to these crises are sometimes handled ad-hoc, without an overseeing and coordinating industry entity, and without a fund to cover restaurant industry costs and ensure that the communities they are connected to are fed.
The Solution:
The Emergency Community Project.
The Impact Foundation will fund the purchase of meals from restaurants across the five boroughs to feed New Yorkers who are displaced or food insecure due to disaster. This fund will also support seasonal food donations like Thanksgiving Turkey Drives, Holiday Meals, and the like.
The Impact Foundation will support other nonprofit initiatives and will partner with existing organizations to amplify their impactful work in this field.
DIVERSITY, EQUITY, AND INCLUSION PROJECT
The Problem:
Minorities remain underrepresented in restaurant leadership positions.
The restaurant industry is one of the most diverse segments of our economy. According to the 2021 U.S. Department of Labor, nearly half (47.8%) of all restaurant employees are minorities. Restaurants have a diverse workforce, except at the top of many companies, while a predominance of people of color work in the back of the house where wages are lower.
The Solution:
The Diversity, Equity and Inclusion Project.
The Impact Foundation will make grants to organizations such as the Food Education Fund to support marginalized, low-income and BIPOC students who seek scholarships to culinary schools.
Scholarships may be awarded in the name of individuals who've played an impactful role in the city's hospitality industry.
The Impact Foundation will provide and fund information and education on diversity, equity and inclusion to foster restaurant and nightlife cultures of belonging, career growth, and opportunity.
NYC Hospitality Alliance Impact Foundation Trustees and Advisors
Hoodspitality Group




Fusion East NY




Jennifer McMahon Elliott,

Great Performances




Bar 47




NYC Hospitality Alliance




Elsewhere




Marlow Collective




In Good Company




Journalist and Advocate


Alicart Restaurant Group


Melba's Restaurant




Thank you to our seed funders for their generous support to launch the NYC Hospitality Alliance Impact Foundation
Karen and Jeffrey Bank Family Foundation, Michi Jigarjian, OpenTable, Terence Tubridy, The Marc Lore Fund, Uber
Andrew Gasper, Michael Brady, Stephen Hanson, Daniel Abrams, Nick Mautone & Terri Ludwig
And other donors helping us make a big impact.
Learn more about the NYC Hospitality Alliance Impact Foundation.
Follow us on social media @NYCImpactFoundation