Testifying on Drinks To Go and More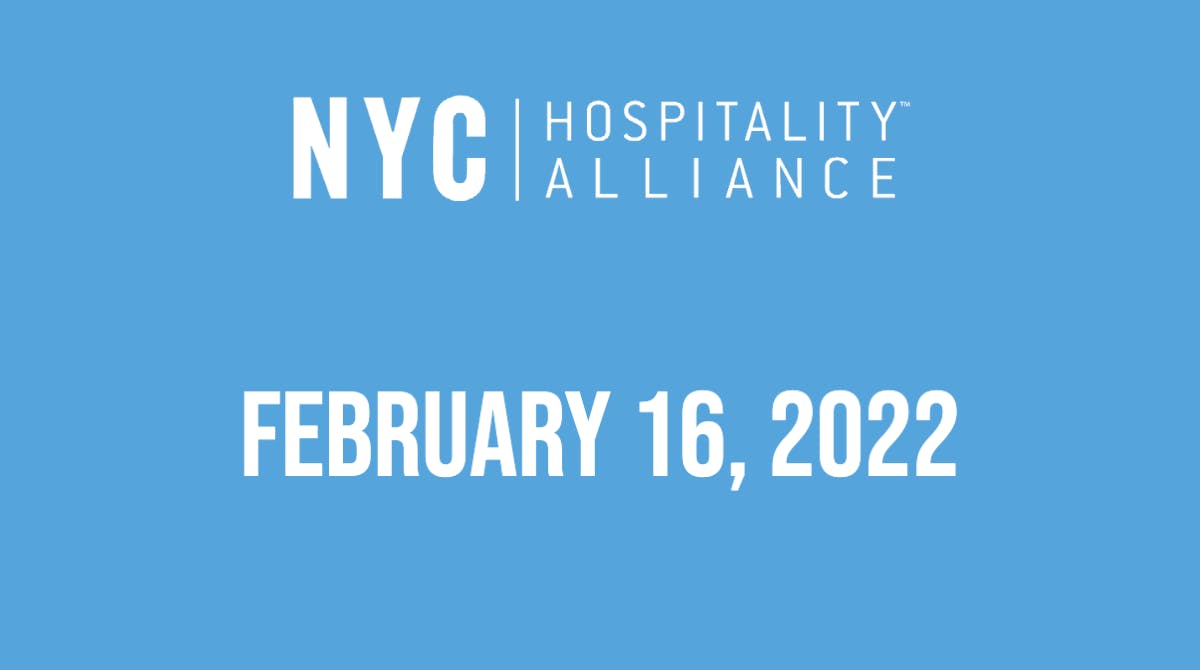 Today the NYC Hospitality Alliance was invited to testify at a joint Senate and Assembly legislative hearing on the state of New York's 2022 Executive Budget Proposal: Topic - Economic Development.
During our testimony, we provided our elected representatives with an overview of how the city's hospitality industry was devastated by the pandemic. We've lost thousands of businesses, many are still struggling to keep their doors open, and our city's restaurants and bars are still approximately 75,000 jobs short compared to pre-pandemic employment levels. We then commented on multiple proposals impacting our industry that are included proposed budget, such as:
Drinks To Go and SLA
One essential pandemic policy was the allowance for restaurants and bars to sell alcohol to go. It was very important for so many small businesses and jobs. The policy was also extraordinarily popular among the public. When it was abruptly ended last year, it was a significant financial blow to struggling restaurants and bars that relied on that revenue stream, regardless of how much, or little it was. The public was also outraged that they could no longer get wine delivered with pasta to their door or get a "to go" margarita with their takeout food to enjoy at home. Now is the time for the state of New York to permanently reinstate drinks to go and update our antiquated liquor laws. We support the inclusion of this policy in the proposed budget.
Relief Grants, Tax Credits and Seed Capital
Because so many of our restaurants did not receive the federal relief they need, we urge our lawmakers to allocate additional relief funding to the hospitality industry to cover rent debt, payroll expenses, and other vendor debt, etc. The relief funding must be accessible, easy to apply for, and reach small businesses that are in need, including for those that opened during the pandemic. Additionally, we strongly support the inclusion of a tax credit for pandemic business expenses related to outdoor dining, air filtration and other items, as well as expanding the credit to other expenses, including purchasing New York State grown and produced food and beverage products to encourage in-state economic activity.
Tourism
Many segments of New York City's restaurant and nightlife sectors rely on tourism. We support policies in the budget that will help attract back the nearly 70 million annual visitors to our city that came here pre-pandemic for vacation, day trips, conventions, and who spent money at our restaurants, bars and nightclubs and event spaces.
Jobs
With nearly 9% unemployment in New York City, we support funding in the budget to enhance and develop programs that train and up-skill New Yorkers for all levels of jobs in the hospitality industry. This sector offers employment opportunities to New Yorkers from all walks of life that will lead to job creation in the state, especially because the hospitality industry has many jobs available.
Next Steps
As the governor and state legislature continue to work on this year's budget, the NYC Hospitality Alliance will continue to represent the city's restaurant and nightlife industry and we will keep you updated.