Rely on RAEL. Reduce your Risk.
According to the NFPA, the majority of restaurant fires are caused by cooking equipment. RAEL brings over 85 years of fire protection experience to NYC Tri-State property managers, building and business owners operating restaurants, nightclubs, hotels, cloud kitchens, commissaries, corporate kitchens – even food trucks!
Our reliable, skilled staff will inspect, test, and maintain your kitchens' fire suppression systems to ensure they meet all FDNY and National Fire Protection Association (NFPA) standards including NFPA 10, 13, 25, 75, 96, and 101.
We also deploy RAEL REDi, the most intelligent service and compliance validation technology available, differentiating us as a leader in the fire protection industry.
Restaurant Fire Protection Services include:
Commercial Kitchen Fire Suppression Systems
NFPA 25 Inspections, Testing, Maintenance & Repairs
Emergency service 24/7
Fire Department Violations
Backflow Testing
Fire Alarm & Special Hazard Systems
Factory Authorized Distributor for Ansul, Autocall,, Xtralis, Stat-X, Potter, NAPCO, Viking & others
NICET Certified Specialists
ARC Systems
NFPA 72 Compliance Testing & Reporting
NFPA 2001 Room Integrity Testing
Clean Agent Suppression Systems (FM-200, Inergen, NOVEC-1230, Halon)
Elevator MER Aerosol Suppression Systems
Portable Fire Extinguishers
Authorized retailers for a multitude of fire extinguisher brands including Ansul, Amerex, Badger, and Buckeye
Test, inspect and maintain fire extinguishers to NFPA standards including 6 year maintenance and 12 year hydrostatic testing
Learn more by visiting www.raelfireprotection.com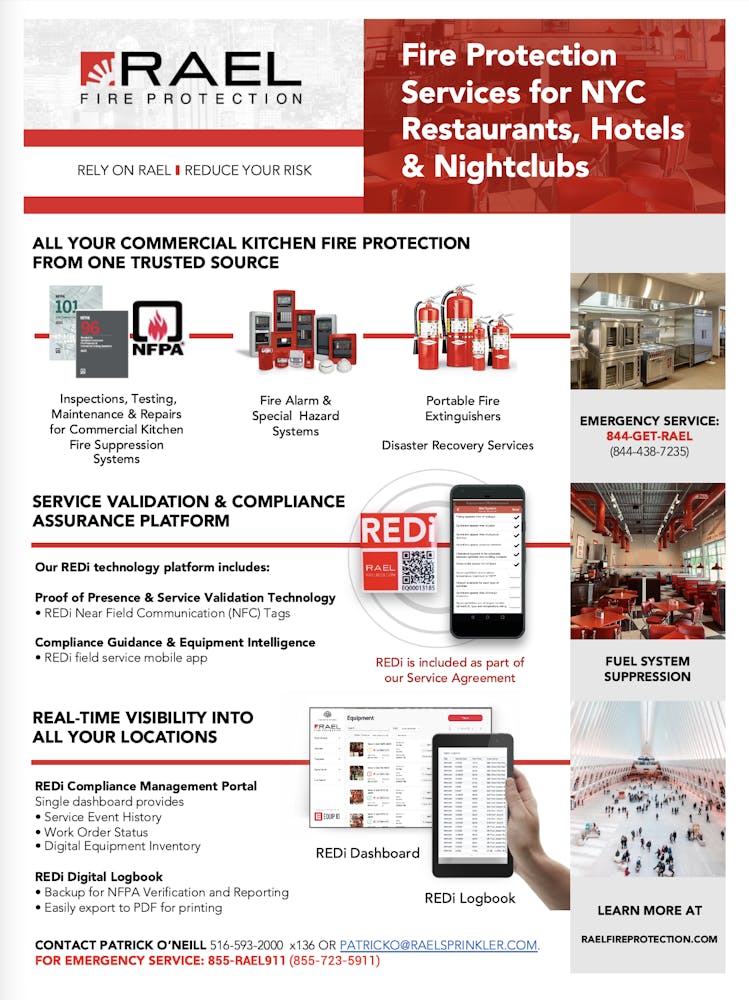 CONTACT
Patrick O'Neill
(516) 593-2000 x136