Overview of Restaurant And Bar Rules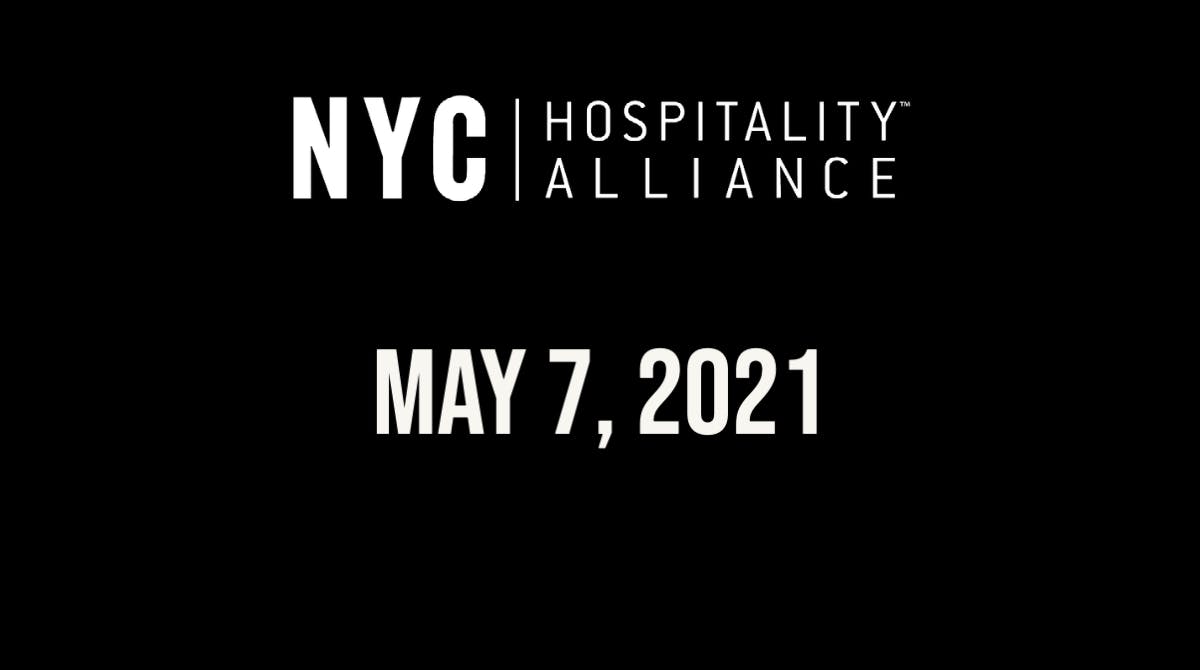 The NYC Hospitality Alliance wanted to provide you the following rundown on some of the updated restaurant and bar restrictions:
Food Item and Bar Seating: The rule that required restaurants and bars to sell a "food item" with alcohol and the "barstool ban" that prohibited customers from sitting at a bar are no longer in effect in New York City.
Customers may now order an alcoholic drink without a food order.
Customers may sit at a bar (no standing permitted), but the six foot social distancing requirement still applies, or a partition must be placed between parties, similar to the rule that applies to table service.
May 7 Indoor Dining: Indoor dining capacity increased to 75% occupancy in New York City, putting it on par with occupancy limits in the rest of New York State.
May 17 Curfew Outdoor Dining: The curfew for outdoor dining will be lifted, HOWEVER for the vast majority of restaurants and bars participating in the city's Open Restaurants outdoor dining program, the curfew remains midnight. If you operate outdoor dining on a rooftop or other private area not part of the Open Restaurants program you are permitted to serve alcohol until 4:00AM, unless your liquor license stipulates otherwise. Click here to review all of the Open Restaurant requirements.
May 17 Subway: The New York City subway system will resume 24/7 service.
May 19: Indoor Dining Capacity restrictions are lifted for restaurants and bars in New York City, but they must still maintain six feet of social distancing, or partitions must be placed in-between parties, thus making it challenging for many restaurants and bars to achieve 100% occupancy. All customers must also remain seated while consuming food and beverage.
Governor Cuomo indicated that restaurants and bars may be able to utilize 100% indoor occupancy without social distancing requirements if they require proof a vaccination or a negative Covid test from all customers. We understand this may not be practical for many restaurants and bars. When official details are released for this policy, we will share them.
May 31 Curfew Indoor Dining: The midnight curfew on indoor dining and catered events will be lifted. Establishments licensed by the State Liquor Authority must stop the service of alcohol at 4:00AM, unless your liquor license stipulates otherwise.
Events: You must limit the number of patrons to any event at the food services establishment to the lesser of 75% of the maximum occupancy or the current social gathering restrictions that are in effect for the region, pursuant to Interim Guidance for NYC Indoor Food Services. The event should follow all existing guidance.
What will the group size be for events inside and outside after May 19?
Effective May 10, outdoor social gathering limit will increase from 200 to 500 people.
Effective May 19, indoor social gathering limit will increase from 100 to 250 people.
Additional information on gatherings in excess of the social gathering limit may be forthcoming.
How many people can sit at a table? You may seat as many individuals at a single table as the table allows, with a maximum of 10 individuals per table, pursuant to the current Interim Guidance for NYC Indoor Food Services.
Other Requirements: While most industry capacity restrictions will be lifted, industry-specific requirements will remain in effect for a longer period of time, including state or local health authority event notification, health screening, contact information for tracing, enhanced air handling and building system standards, hand hygiene, and environmental cleaning and disinfection protocols.
Please note that all of the updated May 19 guidance has not yet been finalized and could clarify questions and/or modify the above. We will share all official details when released. You may find answers to additional questions on the State Liquor Authorities website and in the Interim Guidance for NYC Indoor Food Services.
If you have additional questions we recommend you contact the State of New York at: nycnyf@esd.ny.gov or City of New York at SBS Hotline: 888-SBS-4NYC (888-727-4692).
Thank you for your support of the NYC Hospitality Alliance and your commitment to safely reopening our industry. It's still be a long road to recovery, but we are heading in a positive direction and we are committed to fighting non-stop for the future of our industry.