New Guidance On Occupancy, Masks, And More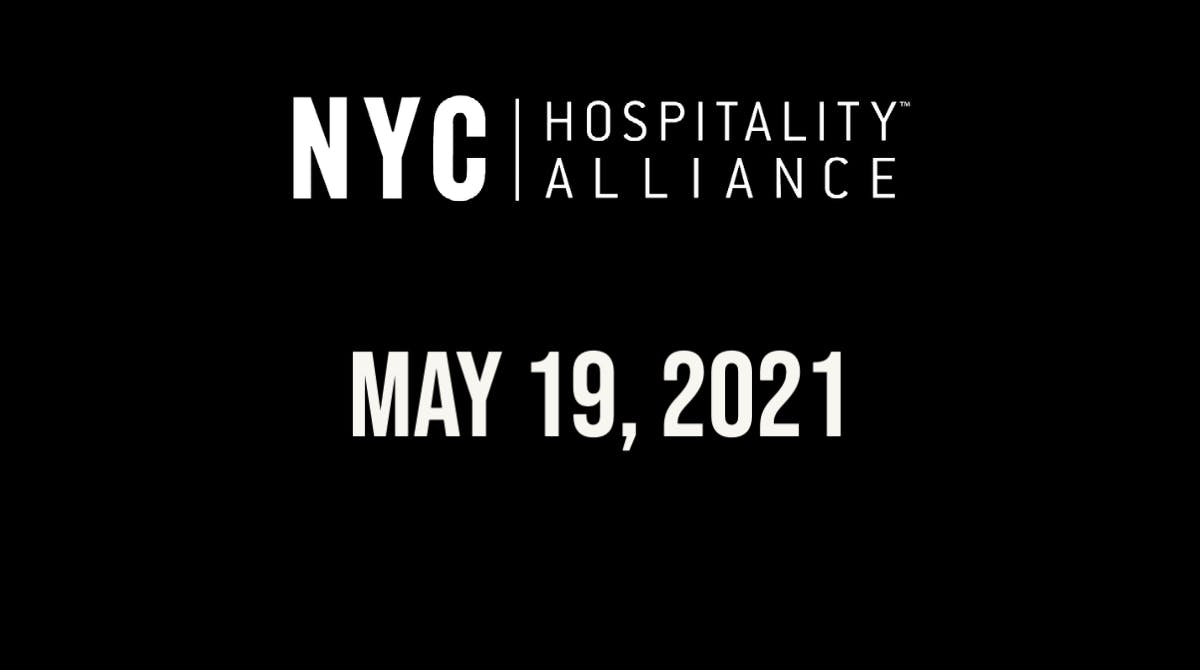 Beginning today, Wednesday, May 19th the capacity limits for restaurants and bars in New York City (and State) have been lifted and you may operate at up to 100% indoor occupancy, subject to multiple Covid-19 rules and regulations. Mask, social distancing restrictions, and related rules have also been modified.
The State of New York just released the updated guidance, which you may click here to read. While the NYC Hospitality Alliance cannot provide you legal and public health guidance, we've created the following memo to provide you insights into how you may implement some of the new polices, which is for general information purposes only.
Occupancy Options:
Option #1: A restaurant or bar may permit 100% indoor occupancy if there is 6 feet of social distancing between parties, or partitions are erected between parties. We understand reaching 100% occupancy may not be feasible for most establishments.
Option #2: A restaurant or bar may permit 100% indoor occupancy without 6 feet social distancing between parties or partitions, if a business requires patrons show proof of full vaccination status. Proof can be provided by patrons through paper form, digital application, or the State's Excelsior Pass. Alternatively, businesses may rely upon self-reporting of vaccination status (e.g., honor system).
Option #3: A restaurant or bar may decide to have vaccinated and unvaccinated sections designated in the establishment. You should have at least 6 feet social distancing between vaccinated and unvaccinated sections. You must apply the vaccination policy in Option #2 for patrons seated in the vaccinated section.
MASK REQUIRMENTS:
Following the CDC guidance, restaurants and bars do not have to require fully vaccinated individuals (employees and patrons) to wear masks or be socially distanced, but unvaccinated individuals must continue to wear masks and be socially distanced. Unvaccinated patrons do not have to wear masks while seated at the table. However, businesses may establish their own mask polices.
IMPORTANT NOTES:
Indoor and Outdoor Dining: The above occupancy and mask requirement apply to both indoor and outdoor dining.
Temperature and Contact Tracing: It appears that restaurants and bars must still follow the temperature check and contact tracing information for patrons who dine indoors, the same employee screening procedures, and your mask policy per above mask requirements for patrons and employees.
No Standing Bar Service: Regardless of which of the above occupancy options your business implements, patrons and employees must be seated when consuming food and beverage. This means patrons are still prohibited from standing at a bar while eating and/or drinking. They are permitted to sit at a bar to eat and drink subject to the above occupancy options.
Accommodations Under The Law: There are certain vaccine exemptions related to vaccines and religions. If your restaurant or bar selects Occupancy Option #2 above, please discuss with your legal counsel and review our previous alert on this issue.
Curfew for Outdoor Dining: The curfew for outdoor dining is lifted, HOWEVER for the vast majority of restaurants and bars participating in the city's Open Restaurants outdoor dining program, the curfew remains midnight. If you operate outdoor dining on a rooftop or other private area not part of the Open Restaurants program, you are permitted to serve alcohol until 4:00AM, unless your liquor license stipulates otherwise. Click here to review all of the Open Restaurant requirements.
May 31 Curfew Indoor Dining: The midnight curfew on indoor dining and catered events will be lifted. Establishments licensed by the State Liquor Authority must stop the service of alcohol at 4:00AM, unless your liquor license stipulates otherwise.
Please note that this not legal guidance, but rather an overview with some insights. We anticipate at some point in the near future the State will update the interim guidelines that may or may not modify the above and/or other Covid-related rules. When it is published, we will be sure to share it with you ASAP.
If you have additional questions we recommend you contact the State of New York at: nycnyf@esd.ny.gov or City of New York at SBS Hotline: 888-SBS-4NYC (888-727-4692).
Thank you for your support of the NYC Hospitality Alliance and your commitment to safely reopening our industry. It's still be a long road to recovery, but we are heading in a positive direction and we are committed to fighting non-stop for the future of our industry.