Legislation Introduced to Reinstate Usage of Propane Heaters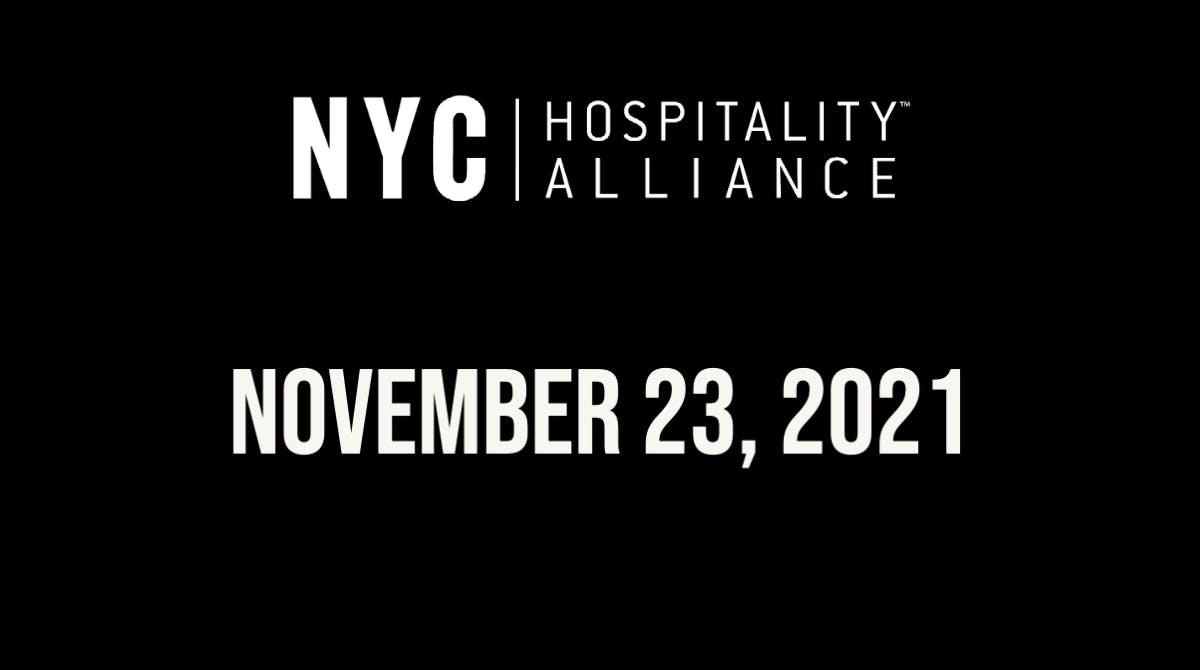 Winter Is Coming! And the NYC Hospitality Alliance has been fighting to get our propane heaters back. Today Councilmember Keith Powers introduced legislation to reinstate the use of propane heaters with outdoor dining this winter, which are currently prohibited after they were allowed temporarily last winter. We were pleased to be included in the press release. We'll keep you up to date as this advances through the legislative process.
View full press release below:
New York City Council Member Keith Powers Introduces Legislation Supporting Local Restaurants by Reinstating The Use of Propane Heaters
Powers' bill boosts local restaurant recovery by making it easier for them to stay open and operate in the colder months
New York, NY -- Today, New York City Council Member Keith Powers introduced legislation to boost restaurant recovery by allowing the ongoing use of propane heaters. As temperatures drop and COVID-19 cases rise, this legislation will allow restaurants to keep generating much needed revenue while giving New Yorkers the option to comfortably and safely dine outside.
"Throughout the pandemic, outdoor dining has been one of the most successful and innovative measures to support local restaurants and allow New Yorkers to safely socialize with one another. The use of propane heaters has played a quintessential role in that success, particularly during the colder months," said Council Member Keith Powers. "With winter on the horizon, COVID-19 cases increasing, and restaurants still desperately in need of support, this legislation will ensure the survival of local eateries, strengthen small businesses, and keep New Yorkers safe."
The COVID-19 pandemic devastated our city's restaurant landscape. In 2020, at least 40 percent of all restaurant jobs disappeared, about 2,000 restaurants closed their doors, and despite reopenings, the ones that have made it through will be weathering the impact for years to come. The outdoor dining program, however, has served as a lifeline for these establishments. Just last year, the program kept over 11,000 eateries alive, saved at least 100,000 restaurant jobs, and allowed restaurants to generate income. One of the keys to this success has been the use and regulation of propane heaters, during the winter.
According to the New York City Fire Department (FDNY), there were no fires or injuries last year from propane heater use. Moreover, the legislation will bolster safety regulations around propane heater usage by requiring the heaters to be stored, handled, and used for outdoor dining only when designed, installed, operated, and maintained in accordance with New York City's fire safe code. This includes specific safety precautions, such as adherence to building clearances, combustible materials, proximity to exits, and more.
"Our city's restaurant industry still has a long road to recovery, and as the temperature drops, propane heaters are essential to keep customers warm while dining outdoors this winter," said Andrew Rigie, Executive Director, NYC Hospitality Alliance. "We commend Council Member Keith Powers for introducing legislation to reinstate the safe use of propane heaters, and thank Mayor-elect Eric Adams for supporting this policy that will aid in the small businesses recovery, while allowing people to enjoy outdoor dining during the colder months."
"Like many small businesses, I personally guaranteed over a million dollars of SBA loans to keep our restaurant's lights on and 45 colleagues employed through the pandemic," said James Mallios, Owner, Amali Restaurant and Bar Marseille. "Customers still ask to sit outside. When the City announced they would not allow the continued use of propane heaters, using the same propane tanks that are stored in garages across America and legal in dozens of major cities, 20 reservations for outdoor dining called us and cancelled. Our ultimate recovery depends on the revenue generated year round from outdoor dining. This bill and support from Councilman Powers and Mayor-elect Eric Adams is the best holiday present our business, my colleagues and family could ask for."
"COVID-19 nearly eviscerated the restaurant and nightlife industry in New York City and even now we are only beginning to see the slightest notion of recovery," said Jeffrey Garcia, President of the NYS Latino Restaurant Bar & Lounge Association. "The reality is, we need all the help we can get to survive as we continue to operate with indoor mandates. Propane heaters have served as a lifeline to the success of outdoor dining, especially, as we head into the cold winter months. To that end, the industry has already invested tens of thousands of dollars in safe and efficient propane heaters to keep our customers warm last season. We ask that we can continue utilizing propane heaters this year because without them we simply cannot sustain outdoor dining in the winter. We want to thank two champions for the industry – Mayor-elect Eric Adams and Council Member Keith Powers who have lead the way on this issue and have shown ongoing support for our vital industry."
"Throughout the pandemic propane heaters have been one of the few things our city's restaurant community has been able to rely on," said Derek Kaye, owner of Takumi Taco and NYC Propane Delivery. "Eateries in every corner of the city used propane heaters safely last winter, and should be allowed to continue to make use of the infrastructure they have already invested in. Council Member Keith Powers' bill to create a framework for the permanent use of propane to fuel outdoor dining during winter months is smart legislation that will allow restaurants to provide the best possible service to their customers while also saving them money in the long run. As we face a second winter season managing the need for outdoor dining with COVID-19 safety, this legislation could not come at a better time, and I join so many of my colleagues in the restaurant industry in offering my enthusiastic support for this bill."