Employers Must Implement Disease Exposure Prevention Plan Pursuant to NY Hero Act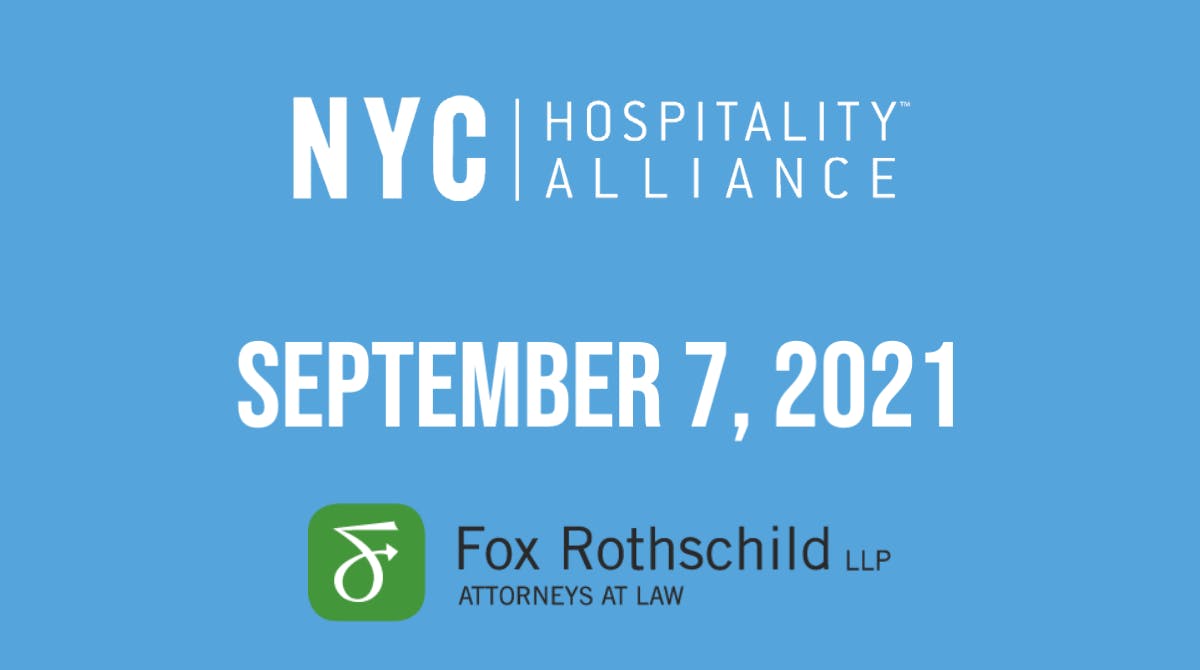 On September 6, 2021, New York Gov. Kathy Hochul announced the designation of COVID-19 as an airborne infectious disease under the state's HERO Act. This designation requires New York employers to implement their workplace safety plans (exceptions are limited to public employers and certain health care settings).
As set forth in our prior alerts dated March 12, 2021, April 23, 2021, and July 9, 2021, to protect New York workers from future airborne infectious disease outbreak, the New York Health and Essential Rights Act (HERO Act) required that almost all New York employers adopt a health and safety plan by August 5, 2021. Employers who have not yet adopted a plan should do so now and implement it immediately.
Please see our prior alert for more details about adopting a plan. The New York State Department of Labor (NYDOL) has published an airborne infectious disease exposure prevention standard (Standard) and general model airborne infectious disease prevention plan (Plan). The NYDOL also published 11 industry specific plans, including one for Food Service.
Employers must:
Provide the adopted plan to employees, verbally review it with them and provide training on the use of protective equipment. The plan must be provided in English and the primary language of employees, if available on the NYDOL website (there are currently no translations for the food service industry model plan, only the general plan has been published in Spanish).
Post the plan in a visible and prominent location within each worksite, unless the "worksite" is a vehicle (e.g., food truck).
Include the plan in any employee handbook.
Make the plan available upon request to all employees, their representatives (a term that is undefined under the law), collective bargaining representatives, independent contractors, the NYDOL and the New York Department of Health.
Implementing a Plan
The governor's designation of COVID-19 as an airborne infectious disease under the HERO Act triggers employers' obligations to implement their HERO Act Plan. To implement a plan, an employer must:
Immediately review the worksite's exposure prevention plan and update it to reflect current information, guidance, and mandatory requirements issued by federal, state, or local governments, and periodically review and revise the plan to reflect current governmental requirements.
Finalize, promptly activate and distribute the updated plan to employees.
Verbally inform all employees of the existence and location of the plan.
In addition to implementing the plan, employers have ongoing responsibilities to ensure adequate enforcement of compliance with the plan and to provide protective equipment while the designation of a highly infectious disease remains in effect.
Employers shall:
Monitor any updates by the State Department of Health and the Centers for Disease Control and Prevention (CDC) concerning the airborne infectious disease and updating the exposure prevention plan, when necessary, so that the plan reflects current State Department of Health or CDC recommended control measures guidance related to preventing the spread of the airborne infectious disease.
Monitor and maintain exposure controls (e.g. ensure air filtration is working properly, and mask wearing and hand washing protocols are observed).
Designate one or more supervisory employees to enforce compliance with the exposure prevention plan and standard and any other governmental guidance related to preventing the spread of the airborne infectious disease as applicable to employees and third parties such as customers, contractors, and members of the public within the workplace (the same supervisory employees should be responsible for ensuring compliance with New York City's vaccination requirement).
Employees Rights
Employees may report violations of an employer's obligations or violations of the employer-adopted airborne infectious disease exposure prevention plan to any state, local or federal government entity, public officer or elected official.
Under the HERO Act, an employee may lawfully refuse to work if an employee, another employee or employee representative:
Notifies the employer (or the employer knows or should have known) of the working conditions that violate laws (such as failure to comply with New York City's vaccination requirement), rules, policies, or orders of any governmental entity, the Standard, or the adopted-plan and the employer failed to cure such inconsistent working conditions.
AND
Such employee reasonably believes, in good faith, that such work exposes the individual, other workers, or the public to an unreasonable risk of exposure to an airborne infectious disease due to the existence of such working.
Employees are protected from retaliation when asserting such rights. Further, employers are required to keep documentation concerning any written communication between employee and employer about the risk of exposure to the airborne disease at issue for at least two years after the conclusion of the governor's emergency declaration of high-risk disease.
Reminder – Joint Labor-Management Workplace Safety Committee
As of November 1, 2021, employers with at least 10 employees must permit employees to establish and administer a joint labor-management workplace safety committee to raise health and safety concerns, review safety policies, and participate in certain site visits.
Please reach out to counsel to adopt and implement an airborne infectious disease exposure prevention plan immediately.
For more information or questions about this alert, please contact Carolyn D. Richmond at crichmond@foxrothschild.com or 212.878.7983, Bryn Goodman at bgoodman@foxrothschild.com or 212.878.7975, Timothy A. Gumaer at tgumaer@foxrothschild.com or 646.601.7652 or any member of Fox Rothschild's New York Labor & Employment Department. Visit us on the web at www.foxrothschild.com.