Alliance x Gov. Hochul: Drinks To Go and Temporary Liquor Licenses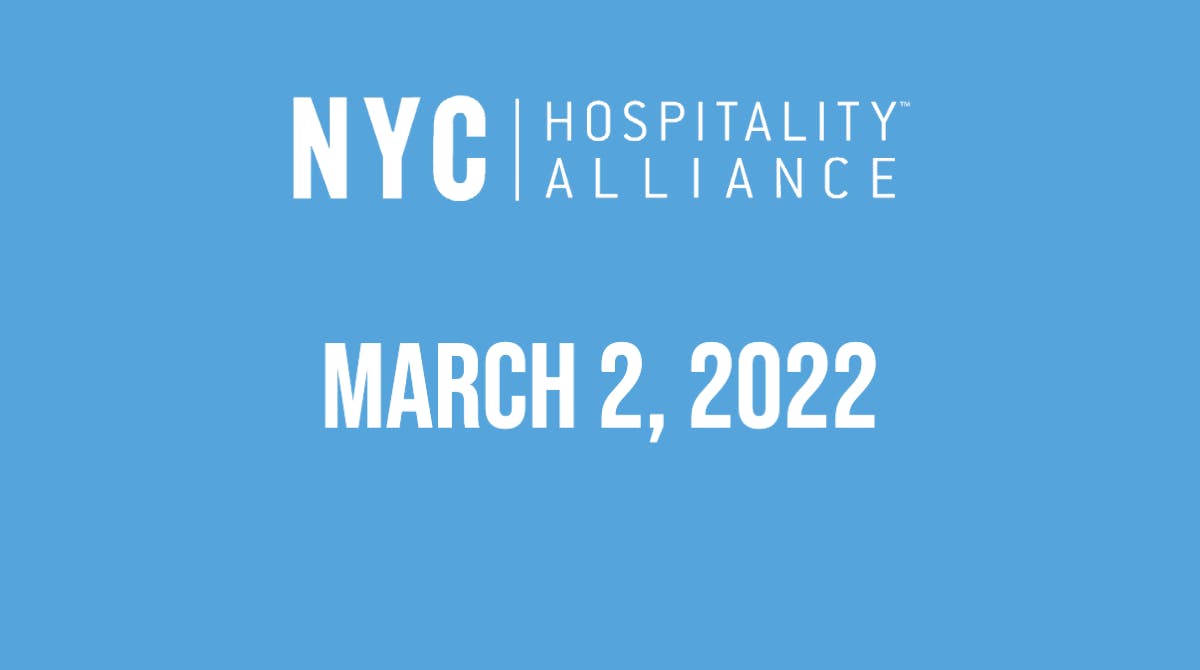 Today, NYC Hospitality Alliance's counsel Max Bookman joined Governor Hochul for a press conference in Brooklyn. The press conference was held at Alliance Board Member Angela Terry's Therapy Wine Bar 2.0, and highlighted several important new liquor license policies that The Alliance has championed and are supported by the Governor. CLICK HERE to view today's press conference.
Today's press conference was yet another reminder of the NYC Hospitality Alliance's critical advocacy on behalf of our members. Acknowledged directly by Governor Hochul, The Alliance stood side-by-side with elected officials and agencies governing the industry including Borough President Reynoso, Senator Ramos, SLA Chairman Bradley and others, who we are working with to enact policies -- such as improved SLA processing times, alcohol in movie theaters, and of course drinks to-go -- that allow restaurants, bars, and nightlife establishments to recover and remain the cornerstone of the city's economy and culture long into the future.
TEMPORARY LIQUOR LICENSES
The Governor, Max Bookman, and Angela Terry all celebrated the recently-enacted temporary liquor license law that The Alliance played an instrumental role in passing. As one of the first small businesses to obtain a temporary liquor license under the new law, Angela was able to begin serving alcoholic beverages at Therapy several months before she otherwise could.
DRINKS TO GO
The press conference also focused on the Governor's proposal to reinstate "drinks to go," the popular policy that allows restaurants and bars to sell wine and cocktails for takeout and delivery, which the NYC Hospitality Alliance is fighting hard to bring back.
IMPROVING SLA PROCESSING TIMES
The Governor announced that as part of her executive budget, she is seeking to double the workforce of the State Liquor Authority that is responsible for processing liquor license applications. As SLA Chairman Bradley stated at the press conference, his agency is responsible for processing thousands upon thousands of liquor license applications each year, but has only been given the resources to dedicate 30 staffers to examining applications. We applauded the Governor's commitment to directing more resources to SLA to help improve the agency's processing times for liquor license applications.
DRINKS IN MOVIE THEATERS
Governor Hochul and Max Bookman also commended SLA on a new ruling recently issued by the agency that interprets the Alcoholic Beverage Control Law in a way that will allow beer and wine to be consumed in movie theaters pursuant to a beer and wine license.
The NYC Hospitality Alliance issued the following statement that was included in Governor Hochul's press release:
"New York's restaurant industry has been devastated by the pandemic. That's why smart policy like the temporary liquor license law is helping small businesses open much faster while creating new jobs, and why it's necessary to reinstate the popular drinks to go policy that provides struggling businesses an important revenue stream while giving New Yorkers what they want, which is wine and cocktails for takeout and delivery from their favorite restaurants and bars. We thank Governor Hochul for enacting this important temporary liquor license law, Senator Ramos and Assemblymember Dickens for championing the legislation, and now we look forward to working alongside the Governor as she leads the way to bring back drinks to go. Cheers New York!" Andrew Rigie, executive director, NYC Hospitality Alliance