Press Conference: 3 Laws in 12 Days to Support Restaurants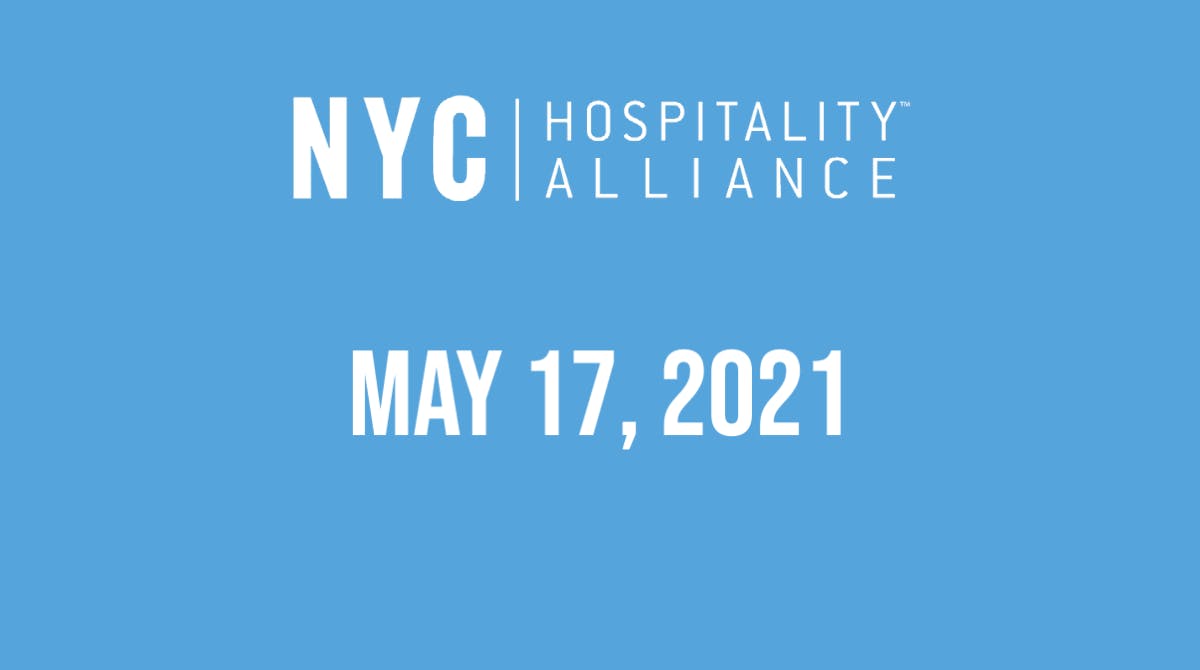 With only 12 working days remaining in Albany's legislative session, the NYC Hospitality Alliance called on lawmakers to immediately enact a slate of three pieces of legislation that will help determine the restaurant industry's comeback in 2021 and into the future.
In a press conference held today, the NYC Hospitality Alliance was joined by State Senator Jessica Ramos and restaurant owners who made the case for the swift passage of three common-sense laws that would:
Grant temporary SLA liquor licenses in New York City, like the rest of the State, so new restaurants can open sooner;
Keep the alcohol "to-go" policy, which has been very popular with consumers and a lifeline source of revenue for New York City restaurants and bars (CLICK HERE to take action);
Allow for the continuation of alcohol service in New York City's outdoor dining
This call to action comes after many months of restaurants being reduced to zero or limited indoor occupancy, and fifteen months of economic devastation heaped on the industry by a pandemic that forced thousands of restaurants, bars, and nightlife venues to close their doors for good. Even as federal relief has been deployed to stop the bleeding in the industry, the monies allocated to the Restaurant Revitalization Fund have essentially been exhausted, while countless local restaurants are still in a dire situation and more financial relief is desperately needed.
"New York City's restaurant industry was absolutely devastated by the COVID-19 pandemic, and despite good news on the vaccination front, and the continued easing of pandemic restrictions, restaurants across the city are still struggling and need an opportunity to recoup their unprecedented losses," said Andrew Rigie, executive director of the NYC Hospitality Alliance. "That's why these three pieces of legislation are critical to the recovery of this ailing industry."
Rigie continued, "If we want New York City to once again be the restaurant capital of the world, the global capital of commerce, entertainment, and tourism, then it's crucial that necessary support is provided to these businesses. With economic recovery on the line, we're calling on lawmakers to pass this slate of common-sense legislation in the next twelve session days."
Outside of continuing the popular alcohol to-go program and allowing customers to enjoy a glass of wine, beer, or a cocktail while dining al fresco, a major concern for small business owners is a current policy that forbids the State Liquor Authority (SLA) from issuing temporary liquor licenses to new restaurants and bars in New York City, as is permitted everywhere else in New York. New restaurant owners inside the five boroughs are forced to wait four to six months before legally pouring patrons' drinks, even when they're ready to open, while a license is being processed, slowing the city's economic recovery.
"At a time when we should be encouraging and supporting all of our state's entrepreneurs in the hospitality industry to re-open their doors or start new businesses, New York City's business owners are forced to wait more than five months for the liquor licenses their businesses need to function," said State Senator Jessica Ramos, the Senate sponsor of the bill that would allow the SLA to grant temporary liquor permits. "My bill will allow the State Liquor Authority to grant temporary alcohol retail permits to businesses in New York City—ensuring the same support and privileges are extended to downstate businesses and all our restaurants have the tools they need to get back on their feet."
"Thousands of restaurants in New York City have depended on outdoor dining to remain safe and economically viable as COVID-19 related restrictions created unprecedented hardships", said Senator Roxanne J. Persaud. "Given the success of the model, codifying this program into law is crucial to the continued survival of New York City's restaurant industry and countless small businesses."
"The COVID-19 pandemic has taken an immense toll on our restaurants and many of these small businesses have relied on the sale of to-go alcohol as a critical revenue source to help them weather the storm," said State Senator Brian Benjamin, who is sponsoring a take-out cocktail bill in the Senate. "We now have the opportunity to provide them with some level of economic certainty by extending this program in law and I look forward to working with my colleagues to get this legislation passed this session."
Assemblymember Steven Cymbrowitz, sponsor of a bill to allow to-go alcohol, said, "The ability to sell take-out cocktails with food orders has been an important economic lifeline for numerous restaurants during the pandemic. Codifying this ability in law will provide an ongoing revenue source that will provide stability and help numerous restaurants recover."
"New York City's outdoor dining program has been an absolute life saver for countless restaurants who otherwise might not have survived the pandemic," said Assemblymember Daniel O'Donnell. "It has also been fully embraced by the public and so this bill will ensure that small businesses and New Yorkers alike will be able to continue to enjoy this important program."
"Outdoor dining as part of the Open Restaurants program has been a lifeline to my business, and to so many other restaurants across the five boroughs. And key to Open Restaurants is that the program allows liquor licensed-establishments to serve alcohol to customers al fresco," said Melba Wilson, owner of Melba's in Harlem and president of the NYC Hospitality Alliance. "If lawmakers want to help the industry truly recover and allow our customers to enjoy a glass of wine while dining outdoors then it's critical lawmakers pass this important legislation to make it so."
"The speed at which the city's restaurant and nightlife industries can recover is largely dependent on whether the legislature immediately passes these three pieces of legislation before session ends in the next twelve working days," said Robert Bookman, co-founder and general counsel to the NYC Hospitality Alliance. "New York City's recovery is really at stake."
"Despite the good fortune of being able to reopen the restaurant we loved, outdated laws have prevented me and my business partner from being able to obtain a temporary liquor license, which our restaurant depends on to keep the lights on," said Daniel Abrams, co-owner of the Mermaid Inn. "I can tell you firsthand how important this legislation is to the survival of my business, and similarly, to entrepreneurs across the city, who are trying to do their part to revive the city's hospitality industry. For the sake of countless small businesses, lawmakers must pass this legislation."
"Like many restaurants that are in the process of reopening, getting back up and running has been exciting but also full of ups and downs," said Nicolas Matar, co-owner of Salinas in West Chelsea. "As we continue to recoup the losses that the pandemic forced onto our business, and so many others like ours, having alcohol to-go is yet another way to help us pay rent, utilities, wages, and other operating expenses, while continuing to offer our customers the wines and cocktails they love."
The last day of the legislative calendar is scheduled for June 10.
Active Legislation, Bill Numbers, and Sponsors:
Extension of take out/delivery alcoholic beverages (Multiple bills)
The ability to generate at least a modicum of revenue over the past 15 months through the sale of takeout/delivery alcoholic drinks has been a lifeline for many restaurants and their employees, and it is an extremely popular public policy. Now, these small business owners need the certainty of this revenue stream moving forward. Delivery and takeout will continue to be a critically important part of the restaurant business for a long time, so this source of ongoing revenue, is a critical component for the sustainability of many restaurants and bars, and a way to deliver the convenience that consumers want.
Allow for the continuation of outdoor dining in New York City – S6353 (Persaud) / A7486 (O'Donnell)
11,000 restaurants participate in New York City's "Open Restaurants" outdoor dining program, which has been critical in saving countless restaurants from closing and responsible for bringing back 100,000 industry jobs. The existing Executive Order is essential in "Open Restaurants" success, because it allows liquor licensed establishments to serve alcohol in non-contiguous areas such as a restaurant's roadway seating, when local governments authorize such seating areas. It also allows restaurants to serve on the sidewalk contiguous to the restaurant without having to file an alteration application with the State Liquor Authority (which could not possibly handle 11,000 applications as their processing time is already many months long). This order must be codified permanently so restaurants can serve alcohol in non-contiguous areas, because if they lose that right, many more will close, more jobs will be lost, and the public will lose out on enjoying a delicious meal and glass of wine al fresco while supporting that local small business.
Temporary SLA liquor licenses in NYC – S2743 (Ramos) / A3909 (Dickens)
The NYC Hospitality Alliance strongly supported a proposal in the Executive Budget – which was ultimately removed from the final budget along with other non-revenue-related issues to the disappointment of our industry – that would allow the SLA to issue temporary liquor licenses to new applicants in New York City similar to the law that currently allows the SLA to do so for new applicants elsewhere in New York State. A stand-alone bill to make this change (A3909/S2743) will make a huge difference for people looking to invest in NYC and open new restaurants and bars by reducing the time it takes to begin legally serving alcohol from 4-6 months from the time of filing with the SLA to closer to 30 days from the time of filing with SLA (and, notably, after they've already gone through the community board process). This legislation will help get vacant storefront business open again and employees back to work much quicker. We need to do whatever we can to help new businesses open and it is clear that they cannot afford to be waiting months for a liquor license. The SLA would retain its enforcement power and community boards would retain their roles in the process, thus eliminating any potential for harm as a result of this proposal, while providing the hospitality industry, and city with a vital tool to aid in its recovery.